Rum ist destillierte Freiheit!
Ein unterhaltsamer interaktiver Workshop zum heissesten Thema der Saison – Rum.
Woher kam er, was sind seine Vorzüge, wo geht er hin?
One for the money, two for the show!

Warum beidhändiges Arbeiten aus Dir einen besseren Menschen macht!
Interaktives Seminar mit Flight-Simulator-Training.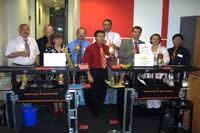 How to set up a professional cocktail competition.
insights from over a decade of experience with dozens of successful
national and international competitions under our belts.
Alle Seminare in deutsch oder englisch / all seminars in german or english